This shop has been compensated by Collective Bias, Inc. and AcneFree. All opinions are mine alone. #AcneFreeSummer #AcneFreeLife
This girl is FINALLY back to her workouts! Whaaaat?! I'm quite excited. I admit, I've been struggling a bit since Allie was born with getting myself back on track and into a good workout routine. The only time of day I can go is when Zack gets home from work and I just feel so horrible walking out the door the moment he arrives home. Same on weekends. That should be our time together so it upsets me to leave on a day that he has off. So I ended up taking a couple months off to adjust to the baby and our new routines and by the time August hit, I knew it was time for some changes.
Being a new mom is hard. Especially on your mental health which is why it was so important to me to get myself back to the gym and consistently working out. Not only is it good for my health and wellness, it gets me out of the house and allows me time away from Allie for a bit (don't get me wrong. I love her dearly, but moms need that time away!).
Now that I'm back at the gym full-time, I decided to reevaluate my post workout beauty routine. It's so important to take care of your skin, but it's even more important when you're active. I admit, I'm totally one of those girls who wears makeup to the gym. I'm not talking a full face or anything like that. Just enough to even out my skin tone so I don't look completely dead. So a lightweight foundation or tinted moisturizer works just fine. But because I do this, it's extra important for me to take care of my skin after my workouts in order to avoid breakouts.
Since my skin can be super sensitive, it sometimes takes me forever to find a good acne system that works well for me. So many end up making me breakout even more which can be quite frustrating. So I decided to be "daring" and try out AcneFree. So I hit up my local Walmart and explored my options. The products I ended up buying were the AcneFree 24 Hour Acne Clearing System, AcneFree Oil-Free Acne Cleanser, and the AcneFree Maximum Strength Terminator 10. For the number of products I ended up purchasing, it wasn't bad price-wise at all! Perfect for all budget types!
After a week of using it, I can safely say this system is a winner in my book! My skin has never looked this happy and healthy.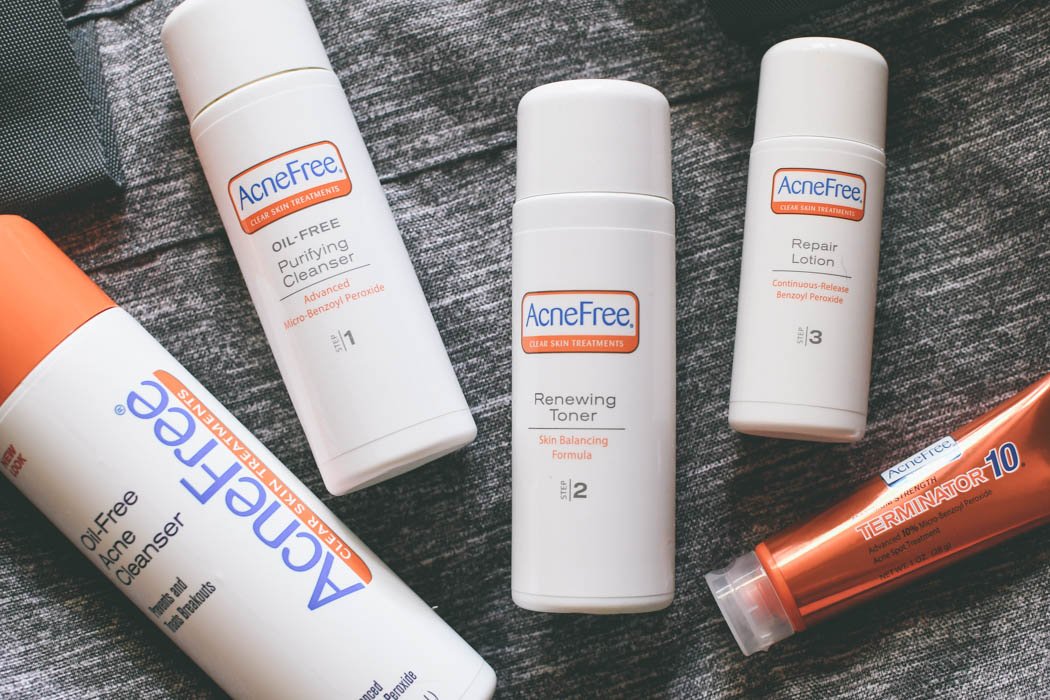 *Hover over the image above to click through and purchase these products!
The system I purchased was the AcneFree 24 Hour Acne Clearing System which consists of three products:
Oil Purifying Cleanser
The first step in the system is the Oil Purifying Cleanser. This cleanser gently deep cleans with  exfoliating microbeads to remove pore-clogging dirt, excess oil and to eliminate acne bacteria. It works deep into your pores to help fight breakouts. It's recommended to use this cleanser twice a day. I mainly use it on my face, but it can also be used on your chest and back as well!
Renewing Toner
The second step in the process is the Renewing Toner. This toner contains vitamins, Witch Hazel, Chamomile, and Aloe to help control oil and balance uneven skin tone. My skin is always left feeling super soft and refreshed after using it. Like the cleanser, I use the toner twice a day and this can also be used on your back and chest as well!
Repair Lotion
The last product in this system is the Repair Lotion which offers 24 hours continuous cleaning when used twice a day. This lotion fights acne bacteria and helps to stop new breakouts before they begin. So I love using this even when my skin isn't broken out. I also this one twice a day and, like the others, you can use this lotion on your chest and back too!
This system has been fantastic these last couple weeks! I use it first thing in the morning and every night after I get home from the gym and have seen amazing results from it. I also purchased two other products by AcneFree that I'm loving as well.
The second product I purchased was the AcneFree® Maximum Strength Terminator 10 Medicated Spot Treatment. I love this product so much! It's a medicated prescription grade spot treatment designed to eliminate 99 percent of acne bacteria and fight breakouts in between applications. It also contains a redness control formula which features Chamomile, Ginger and Sea Whip Extracts to soothe skin and reduce redness and irritation. This is to be used as a spot treatment after cleansing and can be used one to three times per day. I'll typically apply it twice a day along with the rest of the system. Once in the morning and once at night.
The last product I purchased was the < rel="nofollow"a href="http://cbi.as/8336w" target="_blank" rel="noopener">AcneFree® Oil-Free Acne Cleanser. I keep this cleanser in our shower and use it every time I take a shower. This is a daily face wash for acne-prone skin and works to wash away dirt, impurities and excess oil from your skin. It also eliminates acne bacteria and fights future breakouts. This is easily one of my favorite cleansers in my collection. My skin is always left feeling super soft, smooth and clean!
Now I also mentioned a second cleanser above (the Oil Purifying Cleanser) so as of right now it probably sounds like I wash my face five times a day. I don't! I typically use this one at night when I take my post-workout shower and then I'll use the Oil Purifying Cleanser first thing in the morning. So I'm not using both multiple times a day. I usually use them each once!
For someone who works out a lot and wears makeup, it's SO important to have a good skin care routine to prevent those horrible breakouts. Now, with the AcneFree system, I'm able to rock my workouts without having to worry about breaking out afterwards. Summer is the time to wear your super cute sun dresses and spend your days at the beach. I feel the most beautiful and confident this time of year. I want to be able to go makeup free to the beach and show off my shoulders in a cute off-the-shoulder top. So the last thing I want is to have skin that's completely broken out. This system is affordable and super easy to work into your everyday routine so it's perfect for anyone!
When you take the #AcneFreeChallenge, you can see visible results in as few as 3 days! AcneFree is launching a 4-week sweepstakes on August 14th, 2017. Grand Prize Winners will win $1,000 spending money and AcneFree Supplies for a year. Additionally, AcneFree will give away 10 AcneFree® 24 Hour Acne Clearing Systems every week for 4 weeks. No purchase is necessary to enter. All you need to do is enter your name and email address at https://rebrand.ly/acnefree. Use the form to follow on Instagram and Facebook to earn extra entries. For more information full rules, log on to https://rebrand.ly/acnefree.
What are your go to products for your post-workout beauty routine?
SaveSave
SaveSave
XOXO